Sapa seems to be the homeland of most ethnic minority groups in Vietnam. Among these, H'mong is the most prominent group in Sapa. Let's take Sapa tours from TrekkingSapa to explore the beauty of H'mong people and visit the H'mong village which is Cat Cat Village! Certainly, you will have a great deal of excitement and get more cultural knowledge about this land.
1/ The daily life of H'mong people
The H'mong is the largest ethnic group in Sapa accounting for about 53% of the total population. The first H'mong tribe to come to Sapa has concentrated in the Hoang Lien Mountains about 300 years ago. Living in mountainous areas without fertile land,  they have transformed high hill slopes into unique terraced fields thanks to their experience of rice cultivation from the ancient time. If you take Sapa tours in the autumn when the harvest time comes, you will be amazed by a wide range of ripe terraced rice field in golden color stretching over slopes. There is no exaggeration to say that it is the most beautiful scenery in the northwest of Vietnam. In addition, H'mong people also make ends meet by some traditional jobs namely brocade weaving or wax painting. The reason is that they highly appreciate their traditional values and want to retain them generation by generation.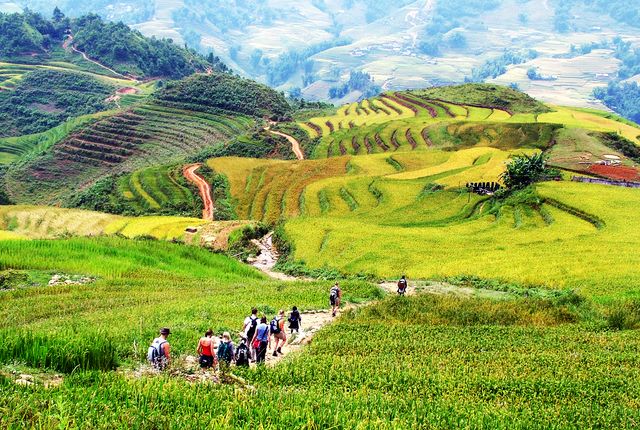 2/ The traditional costume of H'mong people
In general, their costume is completely made from linen. It has some special and attractive patterns which are very distinctive. To be specific, women usually wear four-panel traditional dresses without the button. Its fringe of the garment is not woven and put into the skirt. The main colors of this costume are blue, black, yellow and red, which appears to be the bright color for the whole costume. Furthermore, it is decorated with a lot of gaudy patterns in the sleeve, collar, and garment. These can be rectangle, square, spiral, diamond and so on.  In the front side of the dress, it has the V shape. Especially, H'mong women usually keep their hair long to tie around their head. They wear many pieces of jewelry such as earring, bracelet, necklace, ring, and even anklet. All of them are the most important things to distinguish H'mong women with the others you may see in your Sapa tours Vietnam.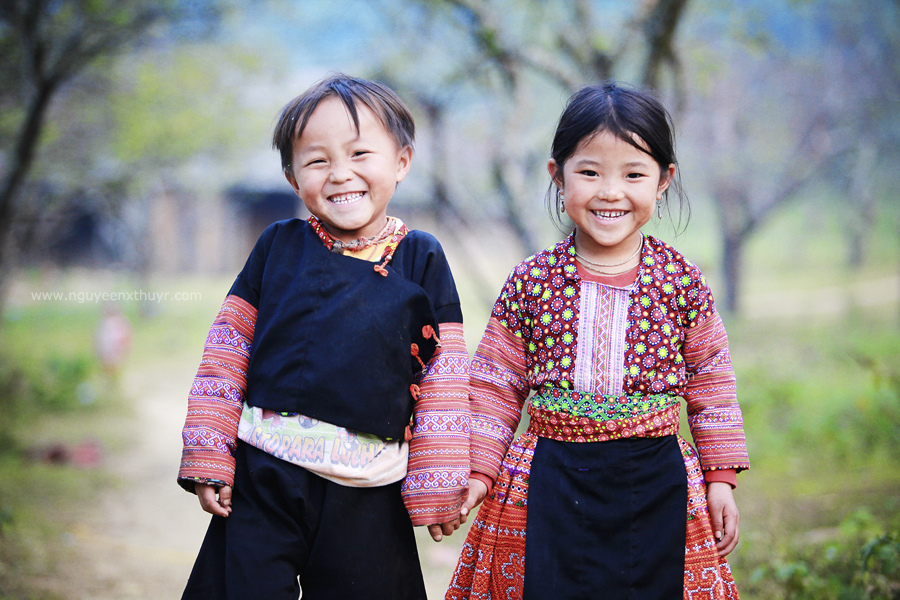 3/ The H'mong's village – Cat Cat Village
H'mong people mostly live in Cat Cat Village. It is one of the most ancient and famous villages in Sapa. Visiting H'mong's village in your Sapa tours, you will be immediately impressed by the peacefully picturesque scenery there. Likewise, the original architecture of H'mong's houses is unique as well. It characterizes their beliefs and customs in ethnic daily life.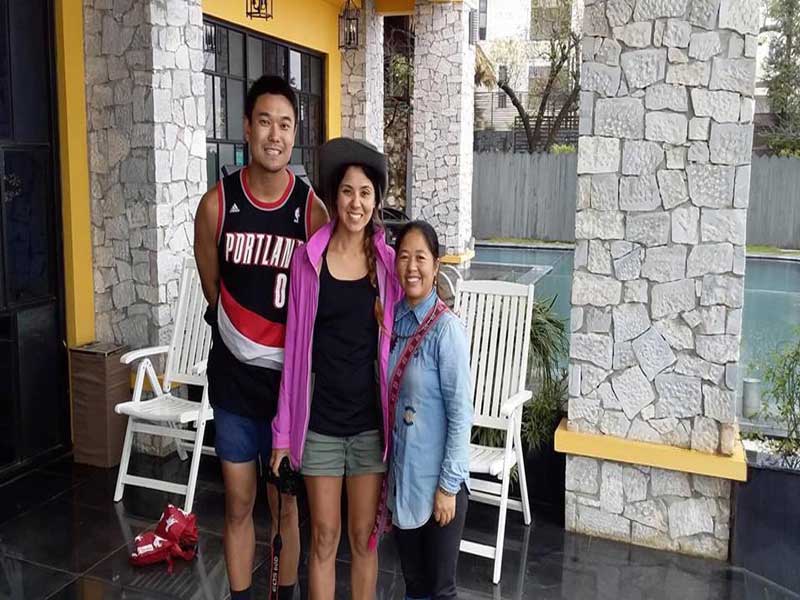 "Amazing experience with TrekkingSapa! See the ordinary everyday life of Hmongs people, be able to ask what you're interested in and be in nature. Definitely, recommend !"  – Reviewed from Mr. Yuen Ying Tan after visiting the H'mong village.
Image 3 (A trip to the H'mong's village)
TrekkingSapa offers a lot of Sapa tours such as Sapa tours Vietnam, Sapa tours 2 days 1 night, Sapa tours from Hanoi, Sapa tours homestay and so on. Let's pick one of them and enjoy your wonderful journey!