Sapa in Vietnam's North West is a wonderfully scenic area of mountains and valleys, terraced rice fields and a rapidly growing tourist sector. It is home to many of Vietnam's 54 ethnic minority tribes who live in tiny villages, away from the hustle and bustle of city living. Here we take a look at some of the best places to visit Sapa Vietnam. You will enjoy visiting any of them to bear witness to a way of life unchanged for generations.
Giang Ta Chai village is home to the Red Dzao who wear plain black trousers and a long black tunic with embroidered cuffs and lapels. To trek to Giang Ta Chai, you will set off on an 18km trek through terraced rice paddies, bamboo forest and stunning waterfalls. Red Zao minority people are the second biggest group of hill minority people in Sapa in Vietnam. Red zao minority people in Giang Ta Chai village in Sapa in Vietnam wear very colorful traditional costumes. In Giang Ta Chai village in Sapa in Vietnam, travelers also can visit wonderful waterfall as well.
Supan Village Sapa is a very mountainous commune since it perches on the mountain. Being a part of the highland on the east side of the main road, it is about 17 km from Sapa town and Su Pan commune with its 4 small hamlets is home of the Black H'mong and Red Zao.
Ma Tra Village Sapa is home to the H'mong and Red Zao. Tourists can enjoy the panorama view of the whole valley, stretching for about 12 Km with some low hills in the middle to divide the valley into two parts.
Y Linh Ho Village Sapa, you will have a chance of going along such a beautiful valley lying between mountains. The fresh air in the highland of Vietnam is really great for taking a walk. Y Linh Ho is a small commune composed by a dozen of small hamlets scattering on the very tough mountain terrain with high and steep mountains. This village is home to the Black Mong who wears very dark clothing in blacks and navy dyed with indigo (often seen on the hands of older Mong women).
Lying at the southern edge of Sapa about 35km from town, Thanh Phu Village with Nam Sai Village and Nam Cang Village are among the most remote villages and home to the Tay Minority, one of the earliest known minorities in Vietnam.
Cat Cat Village is only 2 km from the center of Sapa. The oldest village of the Black Hmong people it is a lovely place to visit. Traditional crafts like linen weaving, jewelry making and floristry are still widely practiced. Among the many things they weave are the colorful costumes still worn by the people. The embroidery on the black linen is exquisite.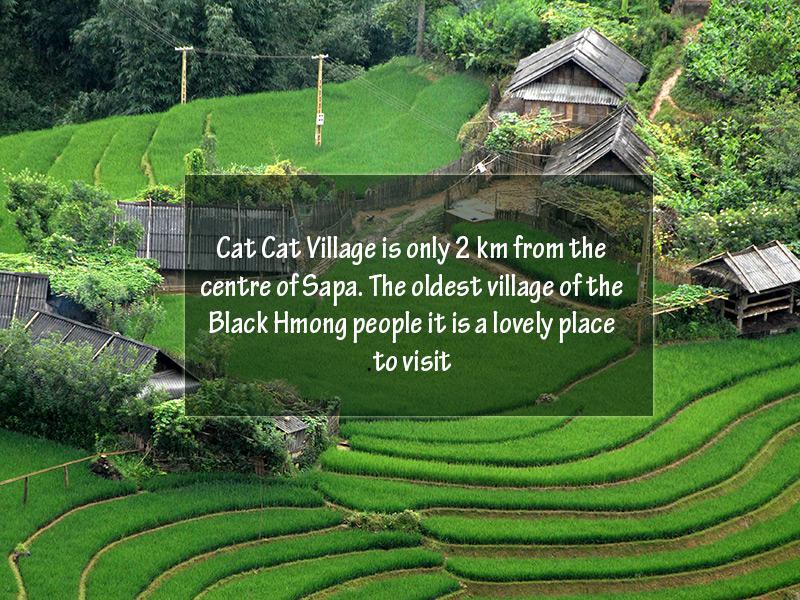 This lies just 8 km southeast of Sapa town. The village is home to the Giay ethnic people, reached by a dirt road surrounded by fertile terraced race fields foretelling of the main occupation of the Giay people. They also produce and work beautiful silver. This is an excellent place to visit, and engage with the friendly people.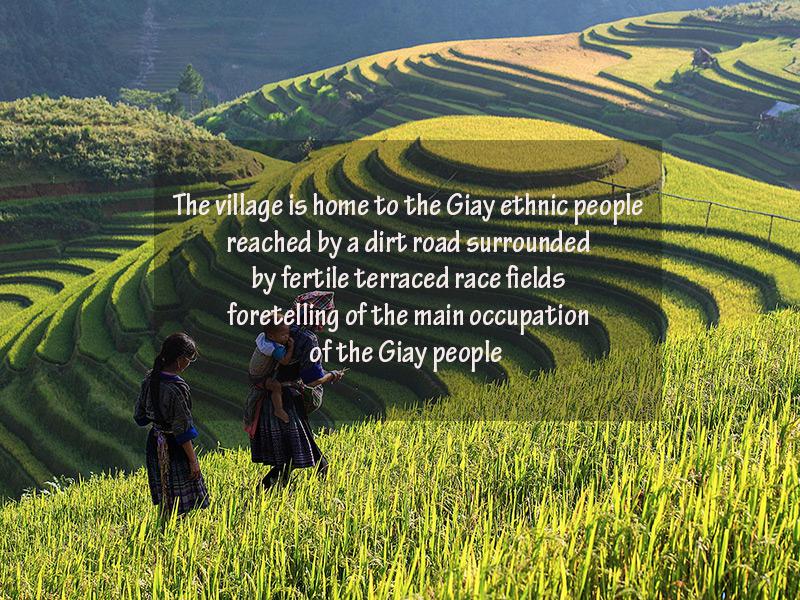 Whilst there are some H'mong people here, the village is mainly home to the Red Dao (pronounced Yao). There is a brocade club here where the women work together making their beautiful costumes. Close-by is a unique monastery, built in a Western style in the 19th century. Try the herbal baths here, built using large wooden barrels, they are popular among tourists.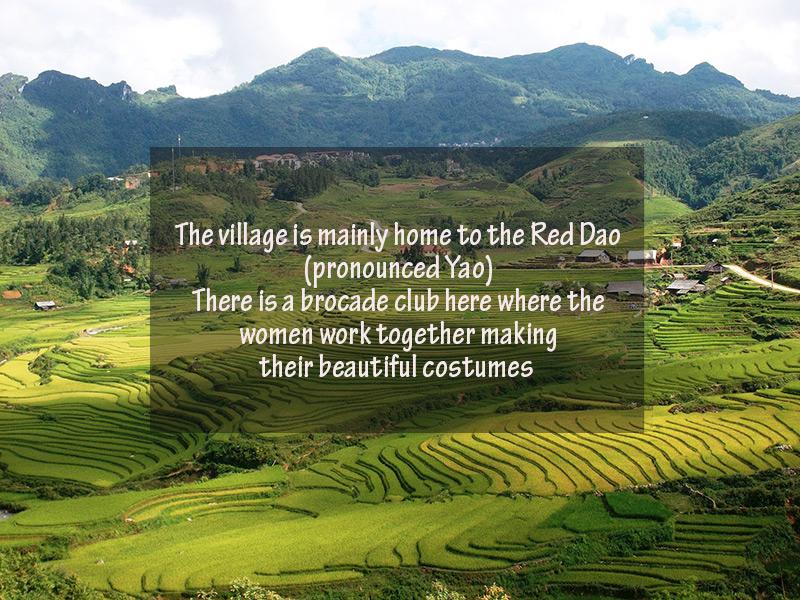 In Lao Cai Province in the district of Bac Ha, you will find the beautiful Black and Flower Hmong village of Ban Pho. This is a more remote area and the best time to visit is around February and March when all the local flowers are blooming. This provides a wonderful back drop to the village. It is only a short 15 minute ride from Bac Ha Town.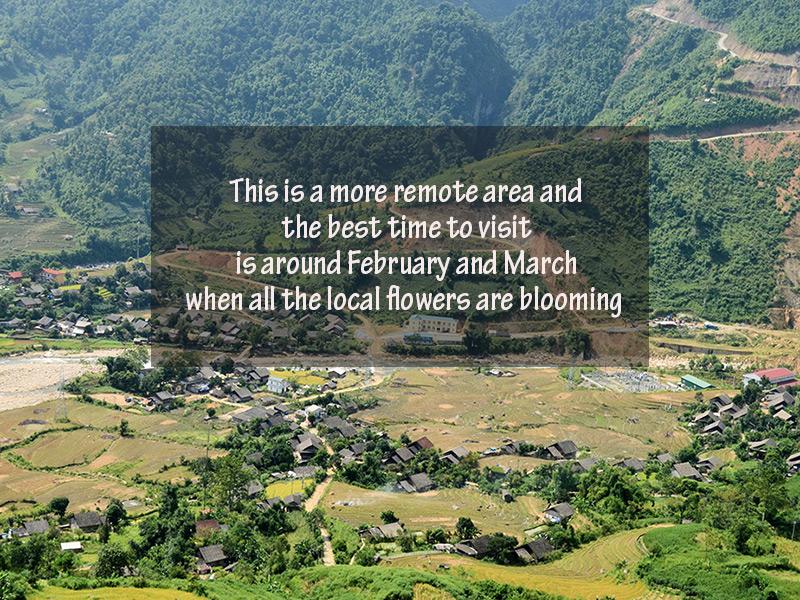 Part of the San Sa Ho Commune this is only 4 km from Sapa Town. Home to around 1400 Black Hmong people, it is not as well known as some of the other villages and therefore is somewhat unspoiled. The healthy lifestyle and air quality mean that there are many old people living here.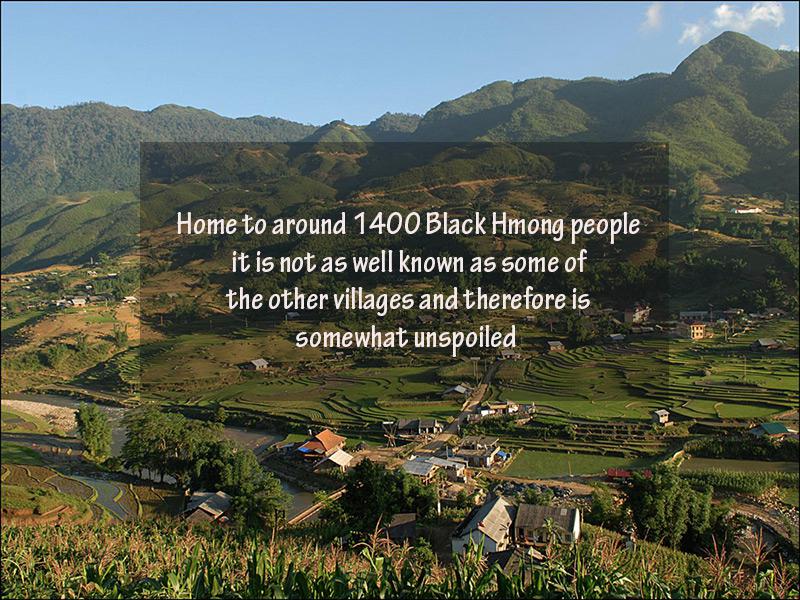 Well known for overnight homestay in stilt houses, you can experience the warmth and hospitality of a friendly Tay ethnic family. The village lies in a curve in the Muong Hoa River, which provides fresh water for the vital 2 crops of rice and beans each year. You can swim in the local waterfalls and enjoy the slightly warmer weather here.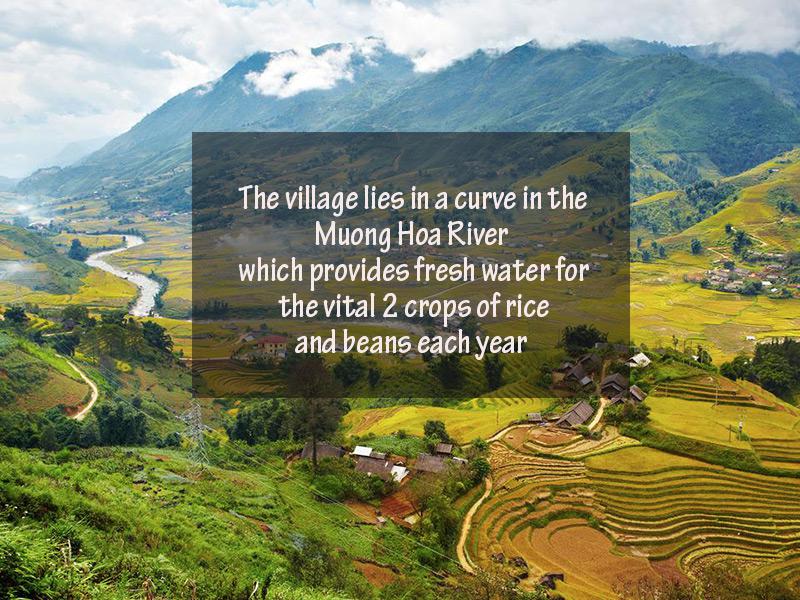 The overriding experience here is that of the warmth of the people. This is one of the poorest areas in Vietnam and the friendliness of the local people is legendary. Whether you visit for the trekking, mountaineering or simply sightseeing, be sure to visit some of the local villages. It is a real glimpse into history and will provide you with wonderful memories and the local people with much needed tourism dollars.
Let's quickly visit our Sapa Tours to have a chance to experience these wonderful villages.
See more: