We are a group of 15 young people from Malaysia. As far as we know, Vietnam owns a lot of interesting things to discover in term of nature and culture. Therefore, we decided to choose Vietnam as the next destination in our travel list and took Sapa trekking tours 3 days. In our journey, we spent 1 night on the mountain and 1 night at the homestay. We cannot even begin to describe how amazing this trip was! Let it be clarified as follows:
1/ Our guide
            Our guide's name was Sinh. He was an ethnic person from the Black H'mong tribe. He was very lovely and friendly through his kindness and enthusiasm in every instruction. From the moment we met instantly, he made us feel so welcomed and relaxed. During our Sapa tours, he was always willing to help us immediately when we were in need or wanted him to clarify something. Especially, his English was surprisingly amazing thus easily making us closer to one another. Thanks to him, we got a lot of unforgettable experiences in our Sapa tours Vietnam.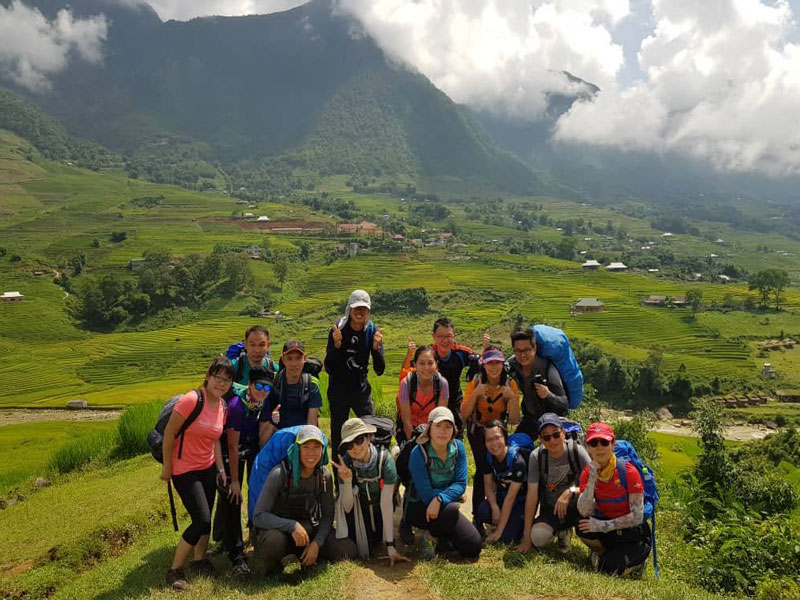 2/ Our trekking tour
The first destination that we together visited was the Sapa market. It was an ideal place to learn more about the ethnic culture in Sapa as well as buy some specialties to bring home. After that, we had a chance to conquer Fansipan Mountain (https://www.trekkingsapa.com/guide/fansipan-mountain-sapa/ ) which was named "The roof of Indochina". The atmosphere on the top of Fansipan Mountain was so great that we were always overwhelmed by the excitement. Certainly, we had taken a photo to memorize the best moment in our Sapa tours Vietnam. Then the ethnic villages in the Muong Hoa Valley would be our next destinations. We still remember some famous names like Cat Cat Village, Ta Van Village, Ta Phin Village, and Hau Thao Village. All of them own a majestic scenery which we were strongly impressed. To be specific, some wonderful images in our Sapa tours are a large number of terraced rice fields, a big herd of buffalo, a wide range of ethnic houses, a lot of ethnic children in their traditional costumes and so on. In particular, we got to a local house in Cat Cat Village. As soon as setting foot on the ethnic people's house, we felt so welcomed by their kindness and hospitality. Interestingly, at that place, we had a great time helping our guide Sinh to prepare and cook the dishes. We chatted together in a very funnily way and enjoyed our meal in a warm atmosphere.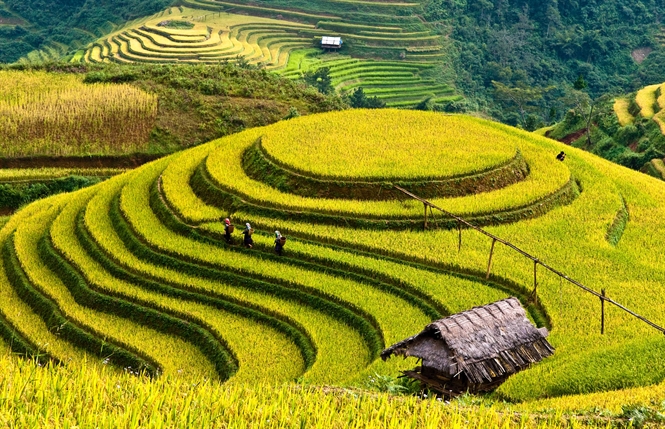 3/ Our sharing
"Cannot even begin to describe how amazing this trip was! We – Group of 15 young persons from Malaysia did a 3 days trek through Sa Pa tour and Fansipan mountain and spent 1 night on the mountain and 1 night at homestay with Sinh, a lovely tour guide from the Black Hmong tribe who made my experience unforgettable. From the moment we met we instantly clicked, he made me feel so welcomed and relaxed, his English was surprisingly amazing and he was so kind. Together we visited Sapa market then the Fansipan mountain then the villages in the Muong Hoa valley.  When we got to local home I felt so welcomed and I had a great time helping Sinh prepare and cook the food. The trekking itself was great, Sa Pa offers some amazing views which were truly breathtaking. The sale Mr Hong from TrekkingSapa is brilliant too – so friendly and welcoming, and made me feel completely at ease. This was our best day in Vietnam so far. A real, unique and authentic experience! Definitely, recommend if you want to experience something new and want to learn lots! You will be inspired and amazed by the end!"
Mr. Holmes Ong – Malaysia