Victoria Express Train recalls a more romantic era. Passing through the exotic landscapes of North Vietnam, between the charming cities of Hanoi and Lao Cai. Each sleeping carriage has 6 superior cabins (4 berths) and 2 deluxe cabins (2 berths)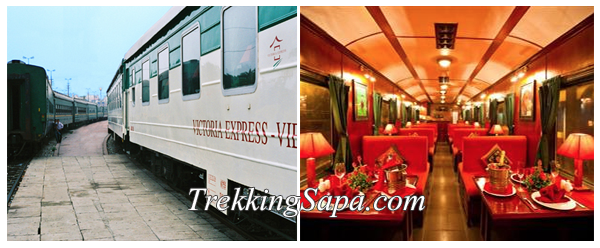 Victoria Express Train
It has 6 superior cabins and 2 deluxe cabins, all are air-conditioned, wood-paneled, with individual reading lights, baggage storage, toilets, and oversized windows.
Victoria Superior (4 berths) cabin: from 120 to 180 US$ for return
Victoria Deluxe (2 berths) cabin: from 150 to 250 US$ for return
One way ticket is acceptable for all trips except Friday or Sunday.
Above rates are in USD, include tax and service charge.
Train ticket can be delivered to your hotel in Hanoi.
Note
The Victoria Express Train is for their guest only (you must stay at Victoria Sapa hotel to be able to book Victoria Express Train).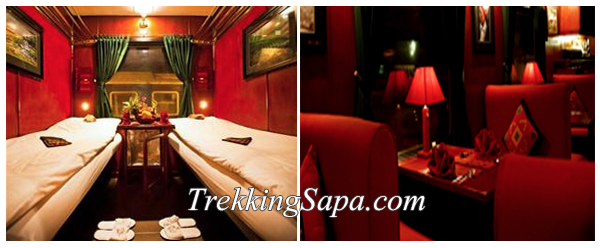 Weekday Departures (WD): Monday, Tuesday, Wednesday, Thursday, Friday (Lao Cai – Hanoi) & Sunday (Hanoi – Lao Cai)
Weekend Departures (WE): Friday (Hanoi – Lao Cai) & Sunday (Lao Cai – Hanoi)
One Way tickets are not available on Weekend Departures.
Ticket price does not include meals.
On departures with Dining Carriage, an optional 4-course set dinner is available as well as a la carte menu.
Please reserve the set dinner at the time of train booking.
>>> See more: